Regular price
$232.00 USD
Regular price
Sale price
$232.00 USD
Unit price
per
Sale
Sold out
Super rare Vintage 90s Killer Loop sunglasses with a semi transparent violet blue Wayfarer style frame and iridescent mirrored lenses which have the Killer Loop icon etched in the corner with the Killer Loop logo embossed white on the outer sides of the arms.  This Wayfarer style is the pattern of B and L Ray-Bans from this era. The colours are so vibrant and the glasses have a satisfactory weight that oozes quality Italian manufacturing. 
These are super rare and collectible iconic 90s sunglasses
Designed by Bausch and Lomb
One arm is marked Made in Italy and Bausch and Lomb
The other arm is marked Loop Sale - US Only. 
The frame measures approximately 5.75" temple to temple.
Sizing Comparison Chart
Friendly Return Guide
Vintage FAQ's
Share
View full details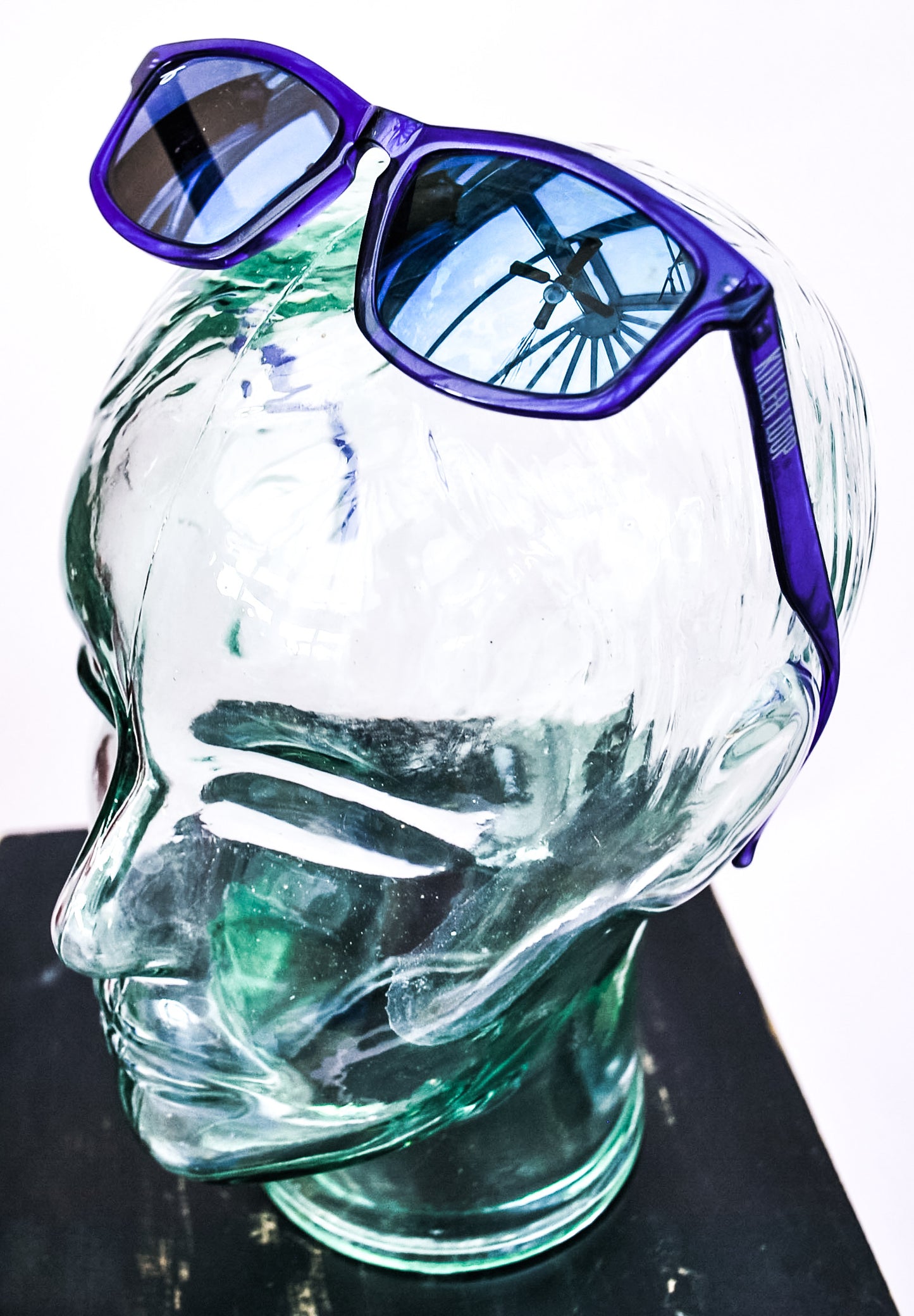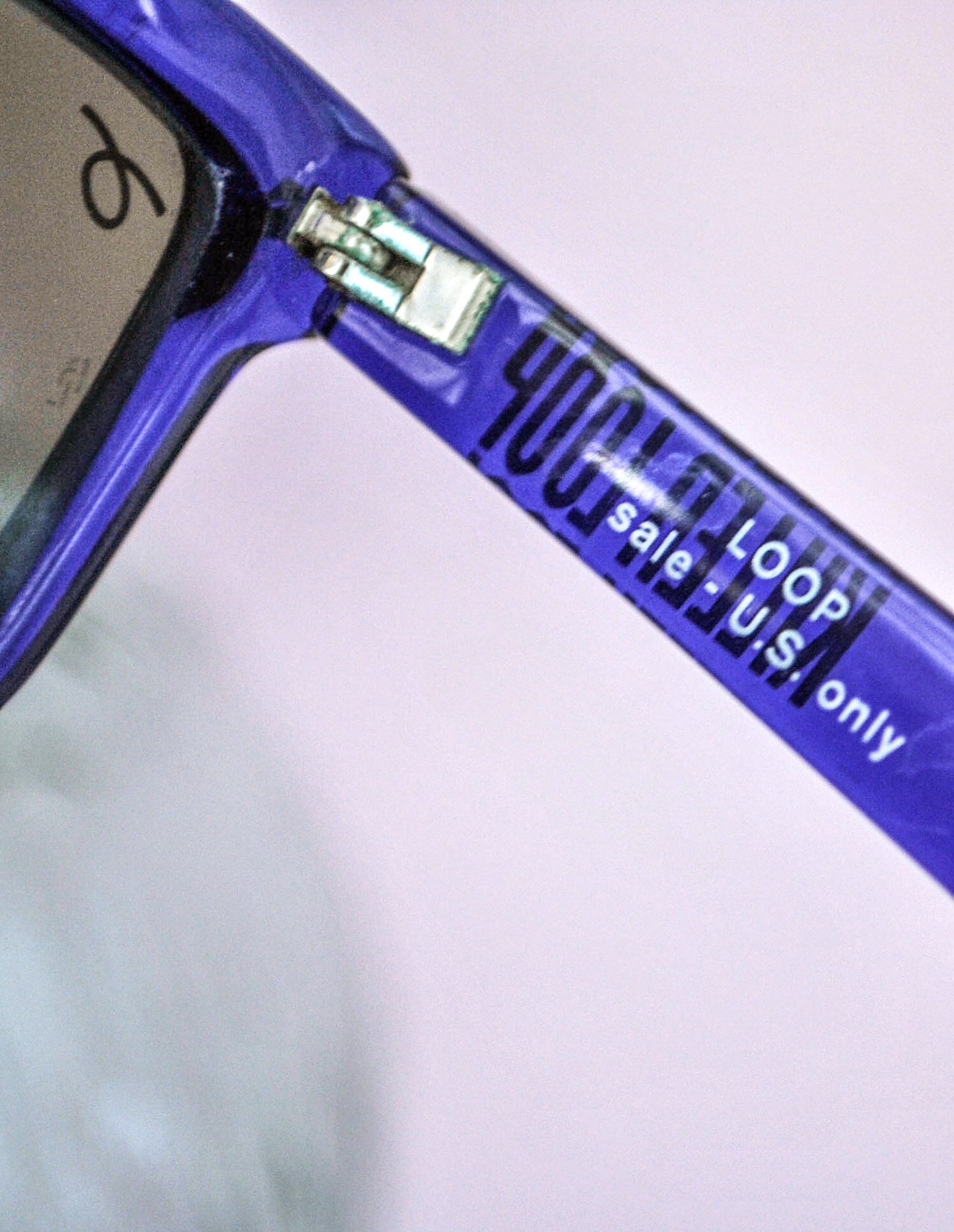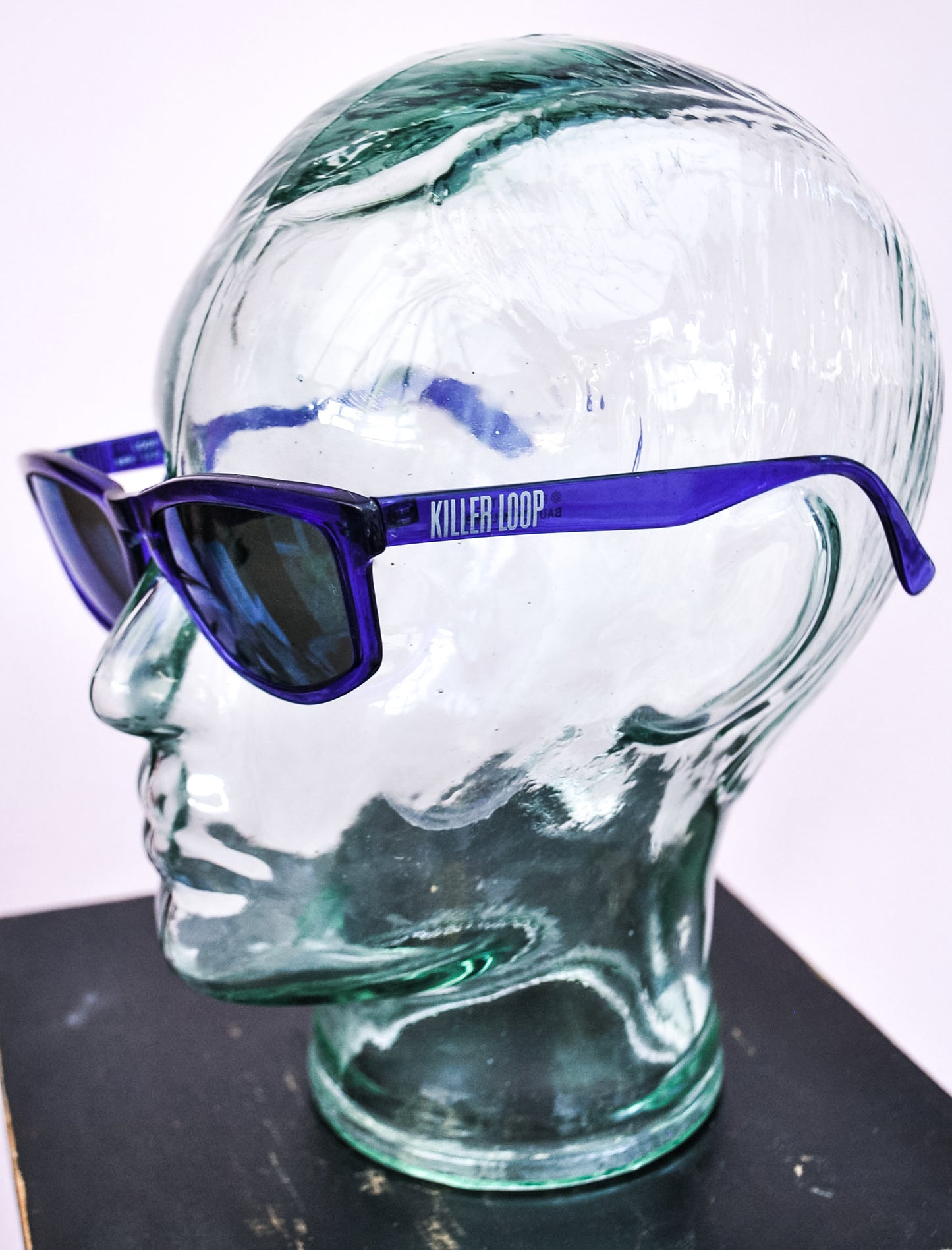 Size Chart Comparison
| | | | |
| --- | --- | --- | --- |
| UK | US | Bust inches | Waist inches |
| 4 | 0 | 30-32" | 22" |
| 6 | 2 | 32-34" | 24" |
| 8 | 4 | 32-34" | 26" |
| 10 | 6 | 34-36" | 28" |
| 12 | 8 | 36-38" | 30" |
| 14 | 10 | 38-40" | 32" |
| 16 | 12 | 40-44" | 34" |
| 18 | 14 | 44-46" | 36-38" |
To ensure that you rock that vintage look flawlessly, we kindly invite you to give a little attention to the measurements of the garment before you seal the deal. Vintage sizes can be a bit quirky compared to today's standards, making it a super-smart move to dive into the nitty-gritty details. For a spot-on fit, our suggestion is to measure a similar-style favorite from your wardrobe and cross-reference those measurements with the ones we've listed in our product descriptions.
All the measurements are taken while the garment is laid flat – no stretching involved. We're all about keeping the original design intact. Our sizing gurus factor in the cut and natural drapes of the outfit to give you the lowdown on size and fit that's as precise as your BFF's GPS directions.
Got any uncertainty about a specific piece and need some extra info on sizing? No sweat! We're here with bells on to help. Your happiness struts right at the top of our list, and we're all ears to assist you in the most fab way possible.

If you have any questions please ask as all sales are final.
Return guide
Returns
When shopping with Top Notch Vintage for those gorgeous vintage pieces, do keep in mind to make your choices wisely, as we're unable to offer refunds, exchanges, or returns. Don't fret though, we're always here with a friendly ear to answer any questions you might have about the item(s) via email.
Before you hit that purchase button, it's a jolly good idea to double-check all the measurements provided in the item descriptions. We want you to rock your style with confidence!
Please know that all sales are considered final. But, if you find yourself in a bit of a pickle and need more info or a nudge in the right direction, don't hesitate to drop a line to us via the contact page.
Sale Items
Now, when it comes to exchange or refund chats, it's the regular priced items that get to take centre stage, meaning that we do not accept refunds or exchanges on sale items.

Exchanges
If by any chance you've got an item that's not playing nice, being defective or damaged, in a way that's different than the condition we have mentioned, we've got your back. We do exchanges or offer store credit for these situations. Just give us a shout within 48 hours of receiving your order, and we'll sort it out like good mates.
Store Credit
When we dish out store credit, it's got a shelf life of 90 days from the date it's issued. So, make sure to put it to good use, and treat yourself to something fabulous!
Refunds
Once we've got your return back and given it a proper look-see, we'll ping you an email to let you know we've got it safe and sound. After that, we'll give you the lowdown on whether your refund or exchange is a green light. If it's a go, your refund will work its magic and shimmy its way back to your credit card or original payment method within a span of days.

Late or Missing Refunds
If that much-anticipated refund seems to be playing hide and seek, don't worry too much. Start by giving your bank account another glance, just to be sure. If things still aren't adding up, a friendly chat with your credit card company might do the trick. Sometimes refunds take a bit of time to strut their stuff officially. If you've gone through all these steps and your refund is still being coy, drop us a line and we'll gladly lend a hand.

Shipping
In case you need a tea time chat about a return, remember that the shipping costs are your responsibility. Shipping costs are non-refundable, but we totally appreciate your responsible courier choices.
Now, when you send those item(s) back our way, make sure it's with a reliable courier that has some fancy tracking skills. We'd love to see them arrive back in tip-top shape, just as they were when we sent them off to you.
Oh, and just a heads-up, we're keeping things cozy within our borders, so international returns won't be making an appearance in our tea party.
VINTAGE FAQ
What is vintage?
Vintage is generally understood to be over 20 years old, whereas antique is over 100 years. So yes that makes some 1990s clothes vintage - eeek, feeling old yet haha.
Many people consider vintage to be just the Rockabilly, 40s or 50s aesthetic but that is pretty much one specific style.
If you think back in time, all decades of fashion had within that timeframe a myriad of different styles and looks For instance the 70s had fashion styles that ranged from Little house on the Prairie Laura Ashley which is super popular at the moment, to disco and Studio 54 or Saturday Night Fever glitz and glam, then of course there was Ossie Clarke with his slimline elegance that strongly evoked the 1930s, then we can also include punk rick which was also in the 70s as well as flower power hippies and glam rock with David Bowie, Marc Bolan and so on.
So you see there are so many choices for you to experiment with. I enjoy putting looks together for customers to create a style that really suits their shape and attitude, picking the right sillhouette to flatter whatever shape they are and honing right in on a specific era tribe.
My advice for anybody new to wearing vintage would be to look at the shapes of fashion styles that suit your body shape and then narrow that down further by moving towards the type of music you like or which popular celebrities of the time you find inspirational and start to put some outfits together upon that framework.
What is the difference between vintage, retro and repro?
Vintage is true vintage, when something is authentic from the era it was made and without alteration.
Repro is when something is made recently but either using a vintage pattern or a design that has been researched to be historically accurate butt made to fit contemporary shapes and sizes.
Retro is when something is heaviliy influenced with a specific era, a retrospective look back through history with nostalgia and is intending to emulate that era to similar effect but usually with a contemporary twist, perhaps with kitschy fabric or blending several genres togetether.
How can you tell if something is true vintage?
Well mostly with experience but there are some basic things that stand out to differentiate;
Look at the labels, if they are printed on a white polyester then that's guaranteed to be modern. After a while of looking at lots of labels you will get a feel of not just vintage authenticity but the likely era too. You can find a great resourse on vintage labels at The Vintage Fashion Guild website.
Check for the closure details, does it have side opening with poppers, a metal zipper, hand sewn buttonholes for instance. Most vintage is tailored to amuch higher standard than our modern off the shelf garments and so with vintage you often get unexpect closures is several places to ensure a shapely form and great fit.
As I just mentioned in the earlier point, construction is a noteable thing to look at. Check for hand stitching and incredible details. Vintage construction is mostly on par with high end designer clothing,  wit the attention to detail. You will find beautiful finishing touches like covered press studs, beautifully finished seams with room in the seam allowance to adjust in later years because clothes were made to last.
The fabrics themselves tell a story too. Look at the prints, the colours, the weight and drape of a fabric. It is always so much more luxurious than modern polyesters, even the man made rayons are incredibly lush. One word will be coming into your head with all of these points - quality. Vintage is truly quality in every way, from the cut, the drape, the fabric, the style... all that for a fraction of the price you will pay for moder designer, and even then that's not always as superior quality as true vintage.
Will it fit - vintage is always small!
Let me just say no to the myth of vintage being small. People have been all shapes and sizes throughout history and yes you can get larger sizes, we generally refer to plus sizes as volup - because voluptuous is what you are when wearing true vintage that fits and look like a bombshell.
The main reason people assume all vintage to be small is mostly because of the waist but that's because foundation garments were always worn to achive the correct sillhouette shape, before you even put the dress on. The foundation girdles, corsets, corselettes, bustiers etc took the strain of cinching in your waist and smoothing the shape. The Spanx of the time, but curvier. So if you really want to get the right look completely then be sure to get the right foundations for the era and style of dress. If you cannot source true vintage structural garments then brands like What Katy Did will sort you out with the perfect modern equivalent foundation for sure.
If you have any more questions, let me know and I will add to this list.
You can also shop online and collect in person
Local Collection

For local buyers, you can now easily buy online via the website and collect in person, after arranging a mutually convenient time to pick up your lovely vintage goodies.
Once you've paid, be sure to message us to arrange a date.

Contact us here

Open by appointment

If you are local or visiting from afar, please be aware our opening times are very random but we will open by appointment if you provide a couple of days notice.

Just drop us a message via the chat or contact form.